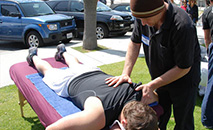 Innovative SPORT Therapy®
Innovative SPORT Therapy is LA Sports Massage's unique fusion of leading-edge Sports Massage techniques including Deep Tissue, Sports, Trigger Point, Myofascial Release and more. …  learn more
LA Sports Massage is Los Angeles' leading provider of Professional Sport Massage services for athletes and all active people.
What is Sports Massage, and how can it help you?  How is Sports Massage different than ordinary massage?
Ordinary massage is used for relaxation.  Sports Massage is detailed, focused, anatomically specific massage that targets and corrects your unique physical issues.
Whether you are a professional athlete nursing a chronic injury, a weekend warrior sore from overdoing it, or a mom with back pain from toting a toddler, Sports Massage can help you.
Our mission at LA Sports Massage is to help you heal and stay out of pain.  That's it – plain & simple!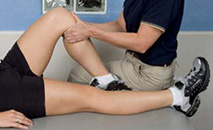 Active Release Techniques®
ART® is a patented, state of the art soft tissue system/movement based massage technique that treats problems with muscles, tendons, ligaments, fascia and nerves. …  learn more
LA SPORTS MASSAGE
13205 W. Washington Boulevard
Los Angeles, CA 90066
310.439.1421
Open Daily from 9am – 10pm
FOLLOW LA SPORTS MASSAGE: