Learn to Let Go: Embracing Yoga for Athletes – by Sean Lords
Learn to Let Go:  Embracing Yoga for Athletes*
a guest post by Sean Lords
It happened while I was teaching in Korea. My athletic friends, the ones that accused me of being "lazy" or "whipped" for taking a yoga class, all started adding yoga to their workout regimens. It became so common that they didn't even both to make excuses for the positions they held in the past—they learned to let go of their assumptions by holding poses.
One is now training to be a yoga teacher with the hope of teaching classes at ski lodges for other competitive skiers. Our local studio even has a "yoga for skiers and runners" class, which didn't seem all that different from any other hatha yoga class to me except for the fact that there were more reminders that yoga "isn't a competition," and we held pigeon pose for what felt like the length of a full marathon.
After sustaining an injury playing baseball in high school, I turned to sports massage as part of my therapy. I did not pursue athletics into college, but did pursue yoga. My friends that continued to work their bodies have also pursued bodywork to either sustain them through an intense athletic practice or to help them heal from an injury, but they also tell me that yoga has benefitted their skiing, running, and general well-being. Besides loosening tight muscles and tendons, a yoga practice will strengthen the core and improve balance and mental focus.
Get Loose!
Every kind of athlete is susceptible to their own unique kind of underutilization or overexertion. No matter whether you have tight hamstrings or quads, if these aren't addressed they can lead to injury or imbalance. Yoga will stretch out these muscles, which will lead to greater flexibility. Flexibility, of course, leads to an increased range of motion in your joints and muscles. This means that you can move your supple limbs farther with each movement, which leads to improved muscular economy, which leads to enhance endurance.
If you are coming off an injury, take it slowly. Yoga is not a competition, and while it will help heal an overuse injury, it won't happen right away. Proper alignment is necessary for both successfully embodying your asana and balancing your muscles. You will need to be patient, but luckily yoga will help develop your patience, too.
Get Strong!
And if you're an athlete, I'm sure you're already strong—in most places. Nevertheless, no amount of lifting free weights can beat the power of a practice of holding up one's own bodyweight. Yoga will help you gain strength more evenly, and will focus on your core like no other form of exercise can. Increased core strength will ensure that you have a healthy back. In addition to strengthening your core, yoga will strengthen the major muscles not over-utilized in your given athletic practice, and the supportive muscles that haven't been used enough. Increased strength in these muscles will help prevent overuse injuries and contribute to greater balance and overall strength.
Get Balanced!
"Balance" is quickly becoming the mantra of this article. As athletes, you want "balanced" muscles, "balanced" strength, and "balanced" practice. Physical balance, or the ability to hold one's body upright without falling, is also desirable for athletes because it will lead to increased control over the body.  This control will allow you to refine your technique and form. Improving your balance through yoga will also improve your coordination, which will lead to fewer falls and other injuries.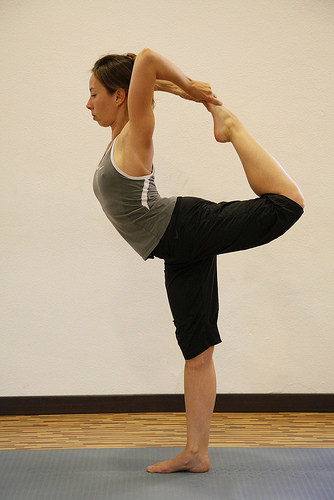 photo credit: Elido Turco – Gigi via photopin cc
Get Focused!
The reasons my friends were initially skeptical about yoga probably had more to do with the meditation, chanting, and singing bowls than it had to do with flexibility, strength, and balance. However, the mindfulness aspect of yoga is integral to developing a practice that will heal you and improve your athleticism. Yes, intense yoga can be a great workout, but savasana – your resting asana that is sometimes referred to as corpse pose—is without a doubt the most important pose. This is where the hard work sinks in. Your asana practice will put you in your body and teach you to focus on your breath while letting go of the fear-based narrative that has likely infiltrated your mind (For instance, your head may tell you "you'll never recover!" as you can't quite touch your toes.) In savasana, you lie flat on your back and only have your breath to pay attention to. Yoga may have developed into a great complementary practice for athletes, but it was traditionally started as a way for individuals to strengthen their bodies so they could sit in meditation for a long period of time.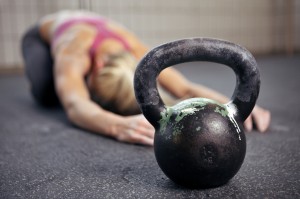 So don't shrug off the meditation. It will make your mind supple and teach you to acknowledge, but not believe, what your mysterious mind is throwing at you. Yoga will teach you how to turn inward, to move with ease, and to focus on one thing—either the pose, your breath, or in sports, your finish line or goal.
Of course, remember to carry the idea of balance outside of your yoga practice, too, and take a multi-pronged approach to caring for an injury. And if you aren't an athlete (or an athlete anymore, as the case may be), don't shrug off yoga as a practice only for athletes or hippies—no matter what your responsibilities, strength, balance, focus, and inner calm will improve your performance.
Sean Lords taught English in Seoul, South Korea for three amazing years. Since returning to the States, he's advised others who are looking for the right tesol course in Los Angeles, while raising a family and working on his Master of Education.
*The information and opinions expressed in this blog post are those of the author and may not reflect the views of LA Sports Massage. Remember – before beginning any fitness program to consult with your doctor or other licensed medical practitioner.