LA Sport Massage's 2012 Olympic Athletes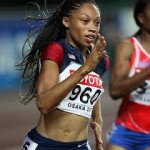 We're very proud to report that there are some prominent athletes competing at the 2012 London Olympics that have spent some time on our massage tables.
Track and field speedster Allyson Felix received sports massage from LASM therapists lately during a Nike commercial shoot. LA Sports Massage was brought in to provide bodywork for Allyson for several days during the filming.
The same for soccer star Hope Solo. During yet another commercial production, LA Sports Massage therapists helped keep Hope moving!
Then there's Candace Parker, of the WNBA LA Sparks. She sought out LASM when she was looking for high quality sports massage. She even brought in her husband, Sheldon Williams of the NBA.
And though he's not at the Olympic games, our Aussie friend and triathlon star Chris "Macca" McCormack has graced our clinic many times when he's been in LA and even sought us out at the Kona Ironman. Macca took the ITU long course world championship last week. Congrats Chris!
Another Aussie, long jumper Mitchell Watt, came under LA Sports Massage care this season. He's slated to compete at the London Olympics August 4th.
In addition to these rock star athletes, we have a roster of athletes in various sports, especially track and field, that are seeking gold at the London Olympics in 2012. Good luck to all of you!