Foam Rolling Workshop with the LA Leggers
It was a smashing success!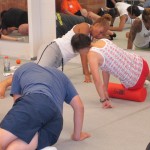 Sunday afternoon LA Sports Massage hosted its first workshop in over a year. Dennis Lisaius, Director and Senior Therapist at LA Sports Massage, led the crowd of LA Legger members though a series of foam roller maneuvers designed to help them learn Self Myofascial Release- a nifty kind of self massage that uses the athlete's own body weight as the pressure to provide massage strokes.
Let's take a look at a few pictures of the event. See anyone you know?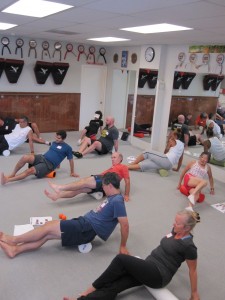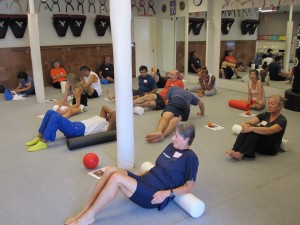 Grunts and groans abounded as Leggers rolled the kinks out of sticky IT Bands and tight quads.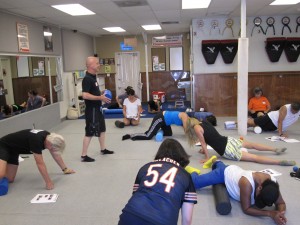 More pictures are up on LA Sports Massage's Flickr page here.
Many thanks to our friend and longtime LA Legger member Bill Lockton for his assistance. Bill is a very experienced runner and triathlete in his own right, as well as a top notch coach – www.lockedonhealth.com.
We also want to thank Marina Tae Kwon Do for the use of their beautiful space for the workshop  – https://marinataekwondo.com/
More workshops are in the works so go to our Clinics & Events page to sign up!